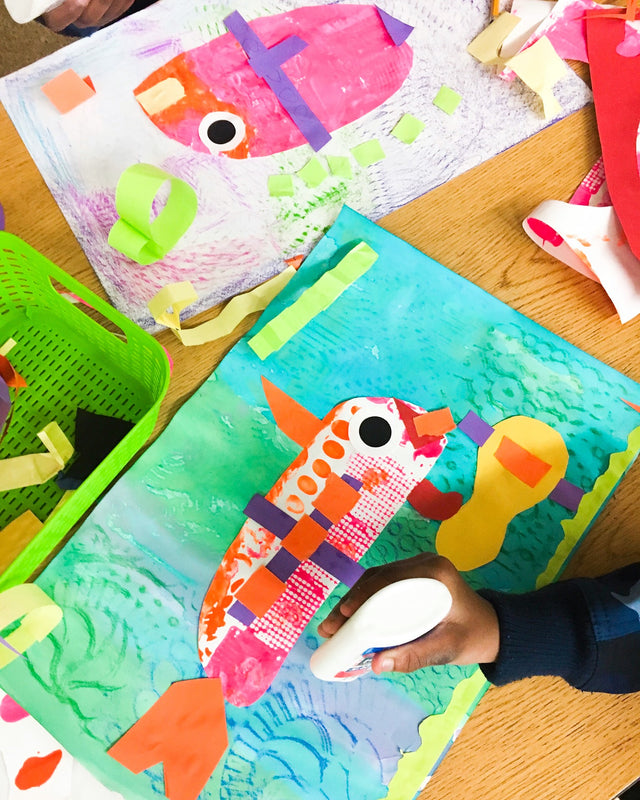 Teaching creativity, My Creative Story Ch. 3
It's been really interesting for me to look back and examine my creative journey, and I'm so excited to share the first step of my next project with you on Tuesday! Look forward to fun and easy videos that will help you build creative thinking skills and creative confidence. Click here to visit my YouTube channel and subscribe so you get the latest updates.
My creative journey so far has led me down some unplanned paths. After growing uncomfortable with desk life as a 9-to-5 designer in a busy nights-and-weekends kind of firm, I made a leap of faith and followed my creative spirit to pursue teaching art & design in addition to making art & design. Check out my post from last week to learn more about the steps of my journey that led me to that point.
Starting in the fall of 2014, I began pursuing my Masters of Art Education with VCUarts. Concurrently, I started teaching at the beautiful Virginia Museum of Fine Arts in their Youth & Teen programs.
I very quickly fell in love with seeing the spark of creativity be ignited in young artists & designers. Seeing art and design concepts through their eyes made me rethink everything I had learned about creativity. Throughout graduate school and my early teaching experiences, I repeatedly witnessed the creative process positively impact my students' mindsets and lives.
After completing the intensive graduate program at VCU, I had earned my masters and a teaching certificate for K-12 public education, and I decided to put it to use with 2.5 years of service in Richmond Public Schools. Wow, y'all...please keep our teachers in your thoughts as we start another school year, and PLEASE VOTE to keep funding our schools. An unbelievable teaching opportunity for me arose at the end of last school year, and I parted ways with K-12 education...keep tuned in to my Instagram Stories for that exciting announcement!! They were some of the most challenging and emotionally/physically draining years of my life, but again I saw that my students cherished the opportunity to build their creative thinking skills.
From this inspiration, I began building my latest creation...I want to help YOU build your creative thinking skills and creative confidence. So, I'm very happy to announce that
Delightful Things
is going back to school with
Delightful Learning
! I'm bringing my creative skills and experience to you with free videos through my YouTube channel, and you can book online creative coaching right here on Delightful Things in the shop.
What creative skills are you looking to learn? Comment below or join the conversation on Instagram! Look for more announcements and I hope to see you for Delightful Learning on Tuesday :)