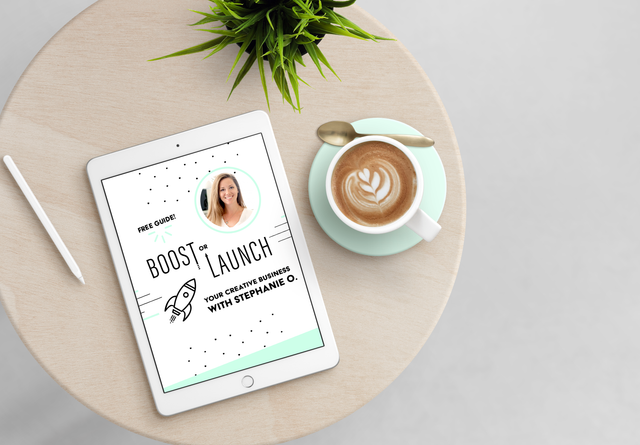 NEW Creative Business Coaching Programs
Hi everyone!! I'm so excited to tell you about
new programs
I'm launching for 2020...through these programs, you'll learn my secrets to starting or growing your own creative business.
Read on for details on these programs as well as a special offer for FREE coaching!!

I've been in the graphic design industry for over 11 years, and have taught art and design skills to students of all ages. A few years ago, I realized that I had several friends and family members asking for advice on running their creative businesses. I figured there were many other people out there in need of similar services...working to become successful artists, start design companies, and market their creative businesses.
Register for the next webinar!  Download your FREE guide
So, in 2015 I combined my teaching and creative business skills to start offering creative coaching services, and since then I've helped a wide variety of creative people with a huge range of skills! I absolutely love working with my clients on digital design skills, assisting with hands-on art-making skills, and helping them deepen art and design knowledge.
I work with clients through video chat, screen sharing, and video tutorials.
Basically, when my clients email me a question, I create custom videos to help demonstrate the digital solution. Clients have said they really love these because they can watch the videos over and over until they get the techniques just right!
Now you can get all these benefits at a huge value by joining me for my new Creative Business Coaching programs! In these programs, we'll work together to develop a personalized strategic plan, custom branding & graphics, an e-commerce website, and a realistic plan for ongoing success. 
My business has offered these services for years, and I've built numerous successful brands and websites for my clients, but with these new streamlined programs, you'll get one-on-one coaching to build your own successful business! You'll also receive exclusive access to a members-only monthly webinar, and custom video tutorials when you're facing a digital challenge. With this program, you'll learn to be your own graphic designer and creative business strategist. 
Are you just starting your creative business, or have you already been working to build your brand? With my Creative Business Coaching programs, you can pick the track that's right for you.
In Creative Business Boost, we'll take 3 months to assess your existing business, branding, and website, work on high priority challenges, then create a realistic plan for a successful future. 
Or, if you're starting from scratch and growing your new art or design business from the ground up, join me for the Creative Business Launch program, where in 6-months, we'll strategize, name, design & brand your company, as well as build your own e-commerce website. Whether you have a graphic design business, a photography business, are learning to sell your art online, or are working on another business venture, you can learn all the skills you'll need to run your own creative business and love what you do.
Interested but want more information? Unsure which program is best for you? Download my free guide, where I use my design process to outline all the steps of the program over 3 or 6 months.
Please also join me for a live webinar on January 31st at noon, east coast time, and receive a special discount code for a FREE month of Creative Business Launch! I'll answer any questions you might have about the program or growing your business...use it as an opportunity to ask about your biggest challenge, or drop a comment below and I'll answer your questions live. Hope to see you there!
ENROLL IN CREATIVE COACHING
Work one-on-one with me from the comfort of your home to grow your art & design skills or build your creative business. Rely on my 11 years of commercial graphic design experience and 6 years of teaching expertise to work through your biggest creative challenges.
Enroll today!
SUBSCRIBE TODAY!

Learn more about boosting your creative thinking skills and reaching your creative goals with me, Stephanie O. on YouTube! I can help with all kinds of creative topics, including working with creative software, running a creative business, and improving your art & design skills.
Watch on YouTube
Subscribe to my Channel
Subscribe to my channel for the latest tips, with new videos every week :)
Thanks for watching 🌿